20 CLEVER SECRET MESSAGES ON DAILY PRODUCTS THAT YOU MAY NEVER NOTICE
When was the very last time you read a label on your clothes
or any item around your home? Turned out, product designers have overtime been
sneaking in hilarious messages in places you can't think of checking, and
interestingly you might get shocked at what you find.
Companies or perhaps businesses are taking the time to have
a little bit of fun, expressing a sense of humor while also spreading a little bit
of happiness to their customers. Undeniably, they need to be applauded for such
creativity.
Here we've compiled 20 everyday products featuring sneaky
hidden messages that will certainly cheer up your moody/boring day. Enjoy!
If you've never folded a paper airplane before, this envelope got your back.
Reddit_banter -Via
Such a beautiful wish.
AlfMisterGeneral -Via
Found this basketball shoes of Kobe's with the three names of his daughters engraved in Braille on the sole.
reddit -Via
This sparkling water bottle giving the advice we all need right now.
Sergeantmajor186 -Via
My yogurt greeted me this morning.
reddit -Via
Found a cute sloth hiding behind the label!
smiletaytay77 -Via
A tip as to what you should do with this small piece of cloth.
grannygogo -Via
Got this new glasses with a cheeky message on it.
mazinggstatic -Via
The person who designs this packaging knows.
A_Lazko -Via
Okay, alright. Geez!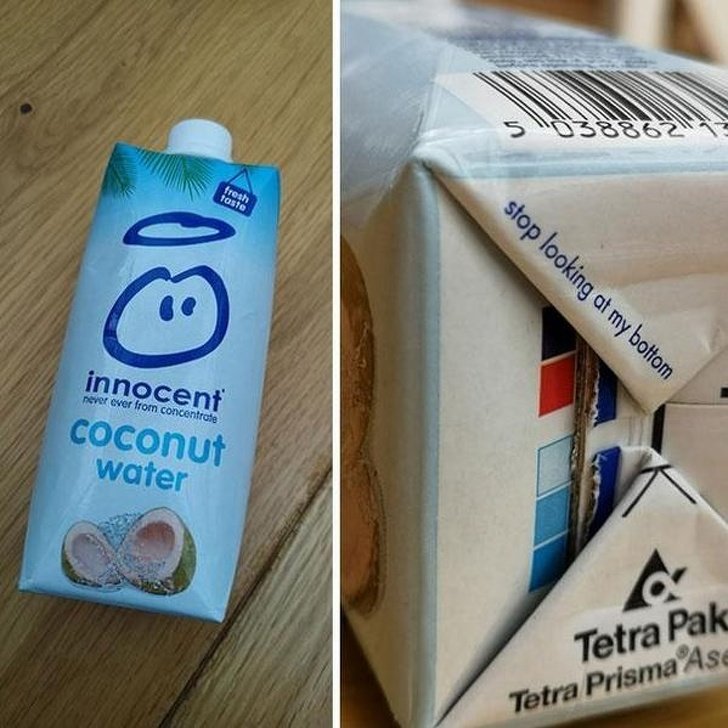 reddit -Via
Faces under the knobs on this keyboard!
reddit -Via
TopGear speaking the truth here.
bananarchie -Via
Boyfriend's blender bottle has a motivating message under it!
vrbart -Via
The floral pattern on this raincoat is only revealed when wet.
trashyfictions -Via
The first and most important ingredient.
bottlesofwhine
-Via
The footrest of this Jeep has Morse code that reads, "Sand, snow, rivers, rocks."
accidentpronehiker
-Via
Eco-warrior salutes in ramen cup!
pixelfetish -Via
A treasure map was hidden inside this coffee mug!
vc13vc13 -Via
Meanwhile in Melbourne.
delcooper -Via 
Found on the bottom of a bag of mozzarella when turning it upside down to get the last of it out.
mae_35 -Via